Top 10 Home Renovation Tips in Your Budget
A home renovation adds value to your home, but it can be goes out-of-control if you're not bound to your calculated budget. Whether you planning to renovate your current house or want to renovate before moving in, calculating a budgeting for a home renovation can be a gigantic task.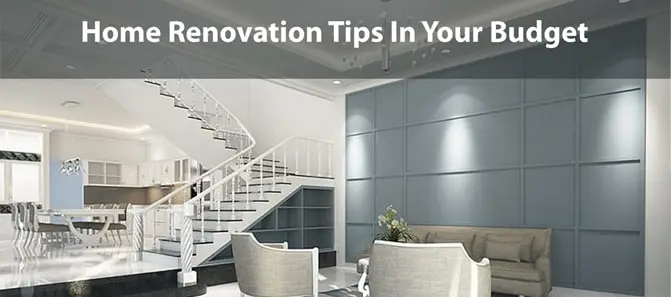 First of all, you'll need to identify what things you need versus what you simply want. After that, you will have to figure out how you're going to finance your home renovation.
Here are 10 home renovation tips which help you to renovate your dream home in your budget.
Determine your top renovation priorities:
The reason behind renovating your home is something to do with a need. If there is a need for more space or some time it happens to restructure the bathroom. Whatever the reason behind renovating, note down and prioritize all of your requirements.
Renovation cost can go beyond your thinking so what you need to do, just determine your top and important renovation priorities first. Do your renovation according to the assign priorities. It will help you to keep your renovation cost in the budget.
It is very common when we get to attract towards overwhelming or extra flashy things but when we are planning for home renovation, it can quickly spiral out-of-control to your budget. So it's better to create a spreadsheet and simply added everything that you want to buy. For example, lighting, paint, appliances, switch plate covers, tile, and more. Get quotes for materials and manpower, including tax to your budget sheets.
Once your spreadsheet is completed, see the areas that are consuming a lot of your budget, and then make adjustments with the alternative of less costly materials, or sometimes you have to cut out some items also. When you make a budget, it's good to keep some amount as a reserve for unexpected expenses. But try to stick to your calculated budget.
It's a better decision to wait for the money to renovate. Be patient and take your time. If you have the money, it can be tempting to renovate home completely at once, if you rush the things, most likely you might get regret for some choices that you make. So starting with one or two rooms and finishing those work before moving to another one. With this strategy, you will have another furnished place to live in the same house.
Also, from the budget point of view, beginning with only one or two rooms is smart because if you go out of unexpected expenses you can take time to make arrangements or you can postpone your work for some time. So take your own time, consider each & every detail that you're required for your home renovation.
Select the contractor wisely:
Once you decide your budget for renovation, then be ready for another tough process which is finalizing your contractor. If you're planning for a general contractor, yes it recommends obtaining bids from at least three to four different contractors. Because many times their bids differ. Usually, general contractors charge 10 to 20 percent of the total cost of the project. Be aware of some contractors who will charge very less as compared to other contractors.
For example, if three different contractors tell you that your entire project will cost around 40K and 50K, but one contractor tells you he will do your complete renovation in 20K, So be careful that the contractor is either inexperienced or lying to you.
Reuse your existing Materials:
This is the best way to save your money to resume materials. For example in kitchen renovations, you can be reusing cabinetry and other appliances. If you want to renovate your kitchen you will require more things than paint and new hardware to restructure kitchen cabinet doors.
If you think wisely you can still save your money by changing the door style or refacing it. Even you can replace the doors but leaving the cabinet body as it is.
If you can't reuse anything in your space, you can purchase material from recycling stations or building material auctions. Don't neglect websites that deal in the buy/sell/trade. Sometimes people are moving and they need to sell their perfectly fine appliances quickly.
Wait For Sales Before Making your Purchases:
Don't let your impatience steer keep you away from getting a better deal. In the home renovation process, you required materials in bulk quantity. And you get all at a very good discount. So be patient.
Research for the best time to make a purchase. Don't miss any building material auctions, where you can save your money.
Yes absolutely, this is the most effective way to save your money. If you are not comfortable with heavy work so this tip is not for you but think again, during your home renovation you're paying a crew for per hour. Because there would be other things you can do to prep your space before a crew comes
If you have designing skills, this is the best time. If you don't have the tools that you need, renting it from your local hardware store, It will still save your money, instead of hiring someone to do your work.
Sell Anything you are not Using:
Consider selling any items if they are in good condition and you are not going to use it further. You can sell out your old kitchen cabinets, doors, hardware, and appliances. If you need the money, try to sell out all. You just need to list these items on online websites which specially deals in it.
Talk to others who have finished similar renovations:
In addition, what you can do, you can discuss your home renovation idea with someone who has experienced it. This is the best way to get knowledge and tips from the experienced person for successful home renovation, In this, you may also know how to cut down the costs. You will get learning and you will try to avoid the mistake which they have been done during their home renovation.
They can also suggest you for good material and contractor. In this way, you can save your substantial amount of money.
Another way to do your home renovation in a cost-effective way is to think about other alternatives. To save money you can use hardwood floors in the living room and kitchen, but then you can use similar design tile which is less expensive than hardwood floors for other homes are like bathroom or entry gate. Selecting the alternatives can help you to keep your budget in your control.
Renovating and restyling your dream Home is the most fun and exciting exercise. Be careful when selecting your contractor, Don't Rush to finish your project at once. Take tips from another person also. Spend your money wisely.
For sure using these tips and tricks for your home renovation will keep your budget in your control.
Harihar Infrastructure Development Corporation Ltd
HIDC LTD.
G-3 AMAR PALACE , DHANTOLI
NAGPUR- 440012
Email:- info@harihar.com
Phone:- 0712-2436453 | 2436454 | 91-937-310-3901