ShriHari Apartment

2/3 BHK Apartments Nagpur
2/3 BHK Apartments Nagpur
The magnificent Shrihari Apartment that is smartly located in Gokulpeth, Nagpur is a well-planned project.
The project is smartly constructed, and completed. This well-designed site has 1 tower, each with its own advantage. The project's month and year of the launch was 2008 The site's complete address is Gokulpeth, Nagpur, Maharashtra. Shrihari Apartment is where fine living meets seamless connectivity to provide you comfort living.
Location
Gokulpeth, Nagpur, Maharashtra.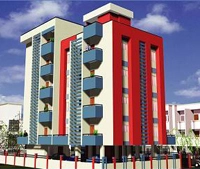 Harihar Infrastructure Development Corporation Ltd
HIDC LTD.
G-3 AMAR PALACE , DHANTOLI
NAGPUR- 440012
Email:- info@harihar.com
Phone:- 0712-2436453 | 2436454 | 91-937-310-3901